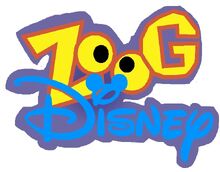 Formerly a Disney Channel block, Zoog Disney is a subchannel airing on stations that are affiliates of free-to-air networks. Zoog Disney is aimed mainly at the people ages 10-12. Aired as a Disney Channel block from 1998-2002, Zoog Disney returned to the airways in 2015 after fans started demanding to bring back Zoog Disney.
History
Zoog Disney was introduced in August 1998, and was the most distinct of the three blocks, compromising Disney Channel Original Series aimed at preteens and teens. The afternoon-to-late evening lineup was hosted by anthropomorphic robot/alien hybrid characters called the "Zoogs" (who were originally two-dimensional figures, but were redesigned as cel shaded anime-esque figures and given mature voices in 2001) and was designed to encourage viewer interactivity between television and the Internet. The Zoog Disney brand would later expand, with most of the channel's weekend schedule (outside of Vault Disney and Playhouse Disney) becoming part of the "Zoog Weekendz" umbrella block from September 2001 to August 2002. In early September of that year, Disney Channel began a gradual rebranding, beginning with the discontinuance of the "Zoog" brand from on-air use.
Return of Zoog Disney
After relaunching Vault Disney in 2014, the question was asked if Zoog Disney should be a part of Vault Disney or be a separate channel. It was decided that Zoog Disney will be a separate subchannel, sharing some of the same programming from Vault Disney. So on Jan. 1, 2015, Zoog Disney returned as a subchannel. It is now one of the candidates for "DN's Childrens Block".
Programming Schedule
All Times Eastern
Monday
Tuesday
Wednesday
Thursday
Friday
Saturday
Sunday
7-7:30 AM
The Famous Jett Jackson
Astro Boy
7:30-8 AM
Bug Juice
Avengers: United We Stand
8-8:30 AM
BeyBlade
8:30-9 AM
In a Heartbeat
Bureau of Alien Detectives
9-9:30 AM
Chaotic
9:30-10 AM
Lizzie McGuire
Buzz Lightyear of Star Command
10-10:30 AM
The Proud Family
The Tick
10:30-11 AM
Jackie Chan Adventures
Iron Man
11-11:30 AM
Dragon Booster
Battle B-Daman
11:30 AM-12 PM
Power Rangers Ninja Storm
12-12:30 PM
Power Rangers Dino Thunder
12:30-1 PM
Power Rangers S.P.D.
1-1:30 PM
Power Rangers Mystic Force
1:30-2 PM
Power Rangers Operation Overdrive
2-2:30 PM
Power Rangers Jungle Fury
2:30-3 PM
W.I.T.C.H
3-3:30 PM
Captain Flamingo
3:30-4 PM
Spider-Man
4-4:30 PM
Contraption
4:30-5 PM
Mad Libs
5-5:30 PM
Off the Wall
5:30-6 PM
Disney's Win, Lose or Draw
6-6:30 PM
The All-New Mickey Mouse Club
6:30-7 PM
The Kidsongs Television Show
7-9 PM
Zoog Disney Movie of the Night
Zoog Disney Channel in Concert
9-9:30 PM
The Jersey
9:30-10 PM
Flash Forward
10-10:30 PM
Boy Meets World
10:30-11 PM
Life with Derek
11-11:30 PM
Sister, Sister
11:30 PM-12 AM
Smart Guy
12-1 AM
Faerie Tale Theatre

1-7 AM

(Late Night Block Party)

That's So Raven Marathon
The Suite Life of Zack & Cody Marathon
The Suite Life on Deck Marathon
Even Stevens Marathon
Lizzie McGuire Marathon
Hannah Montana Marathon
Good Luck, Charlie Marathon
Affiliates
| CallSign | Channel/DT | City | State | Affiliation |
| --- | --- | --- | --- | --- |
| DNOBB | 58.2 | Starfire City | OC | QAX |
| WAJU | 14.3 | Lynn Haven | FL | FOX |
| WJOV | 27.2 | Ralton | VA | ABC |
| WIEC | 3.6 | Rockport City | RS | ABC |
| WJOV | 27.2 | Ralton | VA | ABC |
| WJWX | 3.2 | Schuyler | NY | ABC |
| WKVE | 7.2 | Knoxville | TN | ABC |
| FFIA | 8.3 | Westbridge | MA | NBC |
if you wish to be an affiliate of Zoog Disney, feel free to do so and add your station to the table. Please remember that the table is in Alphabetical order.
Community content is available under
CC-BY-SA
unless otherwise noted.