WTVU



Location

Lakeland, FL

Branding

Lakeland's WTVU 53 (general)
RDN 8 News (WXRD-produced newscasts)

Slogan

Polk County's Best Independent Station!!!

Channel(s)

Digital: 6 (UHF)
Virtual: 53 (PSIP)

subchannel(s)

None

Affiliation

Independent

First air date

1989

Former call letters

WIPT (1989–2009)

Sister station(s)

Former Affiliation

None

Owner

RainbowDash72
WTVU is the independent TV station serving Polk County, FL. It is the one of two independent stations in Polk County. WTVU broadcasts on Channel 53 (UHF). From 2012 until 2015, WFOX produced newscasts at 4PM and 9PM on WTVU, Until 2013, It has no digital signal. In 2015, Weiser Broadcasting sold the station to RainbowDash72 for $200 million. This made WTVU one of the few independent stations owned by RainbowDash72. WTVU became a duopoly with RDN station WXRD. WFOX's newscast partnership with WTVU ended on August 21, 2015. After the station was sold to RainbowDash72. Now WXRD, the RDN affiliate in Lakeland produces newscasts for TVU53. On November 30, 2016, WTVU was sold to Fisher Communications.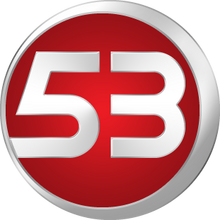 Programming Schedule as of October 9, 2017
MON
TUE
WED
THU
FRI
SAT
SUN
7:00 am
The Office
Dog Tales
Victory Church of Lakeland
7:30 am
The Office
Animal Rescue 
Jack Van Impe Presents
8:00 am
Community
DragonflyTV
Joel Osteen
8:30 am
Community
Think Big 
Paid Programming
9:00 am
Family Feud
Wild About Animals
9:30 am
Family Feud
On the Spot
10:00 am
Supreme Justice with Judge Karen Mills 
The Coolest Places on Earth
10:30 am
Supreme Justice with Judge Karen Mills 
Career Day
11:00 am
Justice with Judge Mablean
Paid Programming
11:30 am
Justice with Judge Mablean
12:00 pm
Hot Bench
Lakeland's WTVU 53 MOVIE (A)
12:30 pm
Hot Bench
1:00 pm
Judge Faith
1:30 pm
Judge Faith
2:00 pm
Tyler Perry's House of Payne 
Lakeland's WTVU 53 MOVIE (B)
2:30 pm
Tyler Perry's House of Payne 
3:00 pm
Tyler Perry's Meet the Browns
3:30 pm
Tyler Perry's Meet the Browns
4:00 pm
Family Feud
Lakeland's WTVU 53 MOVIE (C)
4:30 pm
Family Feud
5:00 pm
Who Wants to Be a Millionaire?
5:30 pm
Who Wants to Be a Millionaire?
6:00 pm
The First Family
Tyler Perry's House of Payne 
6:30 pm
The First Family
Tyler Perry's House of Payne 
7:00 pm
Mr. Box Office
Tyler Perry's Meet the Browns
7:30 pm
Mr. Box Office
Tyler Perry's Meet the Browns
8:00 pm
Law & Order: Special Victims Unit
Scandal
8:30 pm
9:00 pm
RDN 8 News at 9
9:30 pm
10:00 pm
Law & Order: Special Victims Unit
Blue Bloods
10:30 pm
11:00 pm
Raising Hope
Bones
11:30 pm
Raising Hope
12:00 am
The Good Wife
Modern Family
The Good Wife
12:30 am
Modern Family
1:00 am
NCIS
OK! TV
NCIS
1:30 am
Comics Unleashed with Byron Allen
2:00 am
Paid Programming
2:30 am
3:00 am
3:30 am
4:00 am
4:30 am
5:00 am
5:30 am
6:00 am
6:30 am
Newscast Titles
FOX 11 News at 9 on TV 53 (2012-2015)
FOX 11 News at 4 on TV 53 (2013-2015)
RDN 8 News at 9 (2015-Present)
Brandings
WIPT 53 (1989-1992, 2005-2007)
Channel 53 (1992-1995, used occasionally from 1995-1999)
Independent Polk Television (1995-2005)
TV 53 (2007-2015)
WTVU (2009-2015)
TVU53 (2015-2015)
Lakeland's WTVU 53 (2015-Present)