WKJG



Location

Ft. Wayne, IN

Branding

NBC33
NBC33 News

Slogan

On Your Side

Channel(s)

Analog: 33
Digital: 57

subchannel(s)

33.1 NBC
33.2 Color Bars
33.3 Trio Sports Network
33.4 Soapnet
33.5 Color Bars

Affiliation

NBC

First air date

November 21, 1953

Former call letters

none

Former channel number

none

Former Affiliation

none

Owner

Graham Media Group
WKJG is an NBC affiliate serving Fort Wayne, IN, and the Fort Wayne area. Broadcasting on channel 33, WKJG is owned and operated by Graham Media Group. In addition to running the NBC schedule WKJG also airs syndicated programming, including Whew!, Match Game and Tattletales.
History
The station was founded on November 21, 1953 with the call letters WKJG-TV. It was the first television station in Fort Wayne and affiliated with NBC. The station was owned by William Kunkle, owner of The Journal Gazette newspaper (with both entities forming the call letters), affiliate. The first person seen on television in Fort Wayne was Hilliard Gates, who doubled as a sportscaster for the station until his retirement in 1993. John Siemer, a newscaster and announcer at the station, was known at that time as "Engineer John" who introduced cartoons.
For a time, WKJG-TV was owned by Thirty Three Inc, a Tony Hulman company. When Hulman died in 1977, WKJG became owned by Joseph R. Cloutier, who had been a Terre Haute-based long time employee of Hulman's company. After Cloutier's death, a trust fund called the Corporation for General Trade was formed, with Cloutier's son Joseph A. Cloutier as majority owner with a 51% stake. That company continued to own WKJG until it was sold in 2003. On January 13, 2003, the Corporation for General Trade was sold for $20 million to New Vision Television. On May 14, 2008, New Vision sold the station to Oakhurst Broadcasting. On Jan. 30, 2016, it was announced that Island Television, as well as Higgins Broadcasting, and Oakhurst Broadcasting, were merging into Adelphia Communications. So Adelphia became the new owners of WKJG, while selling off WPTH to Evans Communications and ending the duopoly in Fort Wayne.
On September 19, 2016, Adelphia sold WKJG to Kenny Broadcasting. It was subsequently sold to Graham Media Group in 2017.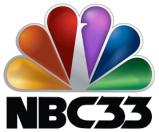 News/Station History
News Themes
U-Phonix - Stehpen Arnold Music (2009-2017)
Gurdian - Stephen Arnold Music (2017-present)