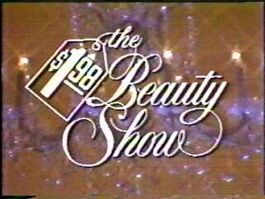 The $1.98 Beauty Show is an American game show that aired in syndication from September 1978 to September 1980.
Hosted by Rip Taylor, the series is a parody of beauty contests, and featured six female contestants (including the occasional overweight ones, and on at least one occasion a male dressed in drag) competing for the title of "$1.98 Beauty Queen".
Chuck Barris created the series and was executive producer while Johnny Jacobs announced. In 2014, it was announced that Lady Luck Productions (who was producing another revival of Barris' series The Gong Show) would bring back the series, this time with Eddie Griffith as host and Brad Sherwood as the announcer. Unlike The Gong Show (which airs daily), The $1.98 Beauty Show airs weekly.
Rules
The show consists of three rounds, during which each contestant is judged by three celebrity panelists. Emcee Griffith introduces the contestants one at a time.
Round 2 features each contestant showcasing their "abilities". Round 3 is a swimsuit competition, in which emcee Griffith ushers the contenders on stage and announcer Sherwood cracks jokes about their vital statistics and hobbies.
At the end of each show, Griffith announces the "$1.98 Beauty of The Week" (sometimes the episode's ugliest contestant); that contestant is then presented with a tacky plastic crown, rotten vegetables as a bouquet, and the titular cash prize of $1.98, which Griffith dispenses from a coin holder on his belt.
Community content is available under
CC-BY-SA
unless otherwise noted.