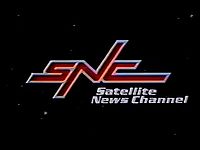 Satellite News Channel is a cable and satellite service that takes its name and logo from the former channel that closed in 1983. Launched as a joint venture of the American Broadcasting Company (ABC) and Westinghouse Broadcasting(Group W) Satellite News Channel was designed as a satellite-delivered cable TV network, and used footage from ABC News and seven Washington DC based crews, in addition to stories from other overseas networks to provide a rotating newscast every 20 minutes. The channel is best remembered as the first 24-hour news cable competition to CNN.
SNC's slogan, derived from Group W's experience in all-news radio, was "Give us 18 minutes, we'll give you the world." In 2014, 31 years after the channel closed down, Walt Disney Company (by now owners of ABC) announced that they would bring back Satellite News Channel as a replacement to to ABC World News Now, which was shut down in 2013.
History
SNC, based in the New York City suburb of Stamford, Connecticut was on the air from June 21, 1982, until October 27, 1983. During that time, it provided competition for Turner Broadcasting's CNN, the first such network at the time to do so. However, on January 1, 1982, CNN started a second network, CNN2, which had a similar format, as a preemptive strike against the ABC/Group W venture.
SNC, however, had difficulty getting clearance from cable systems. It was eventually bought by CNN and shut down; on most local cable systems it was replaced by either CNN or CNN Headline News (which had changed its name from CNN2 shortly after SNC's launch in 1982).
After the Closure
In 2004, ABC News returned to the 24-hour news market with ABC News Now. The channel began as a digital subchannel but was later moved to cable. However that channel like SNC received little cable and satellite carriage, only being available on regional cable systems and Sprint's mobile devices. After nine years in operation, it was shut down.
In 2013 ABC News partnered with Univision Communications to launch Fusion, a new cable news channel focused on a Hispanic audience with shows skewed to a younger demographic which also includes satire and entertainment programs. The channel went live on October 28, 2013. The channel is ABC's third attempt at a cable news channel and their second partnership on one, the first since SNC. As far as distribution, Fusion has fared much better in respects to carriage than its two predecessors, securing both major satellite carriers and major cable operators in markets like New York City.
The Return of SNC
On January 3, 2014, Satellite News Channel returned to the airwaves. Unlike the previous SNC venture, this one is fully owned and operated by the Walt Disney Company, while Fusion is runned by the ABC News Division and Univision.
Community content is available under
CC-BY-SA
unless otherwise noted.