KLSA



Location

Los Santos, SA

Branding

CBS 9
CBS 9 News

Slogan

Get Closer

Channel(s)

Analog: 9 (VHF)
Digital: 8 (VHF)

subchannel(s)

9.1 KLSA-CBS
9.2 KLSA 24/7 Weather
9.3 Comet
9.4 Charge!

Affiliation

CBS

First air date

May 11, 1949

Former call letters

none

Former channel number

none

Former Affiliation

none

Owner:

RainbowDash72
Not to be confused with real KLSA 90.7 FM in Alexandria, LA.
KLSA is the CBS station that serves the Los Santos, SA area. It broadcasts on channel 9 via analog and channel 8 via digital tv and is owned by CBS Television Stations. On November 1, 2015, KLSA debuted the CBS O&O grapihcs used by all other CBS stations owned by Krueger Broadcasting. On December 30, 2015, Krueger Broadcasting announced that it traded KLSA to CBS Television Stations. It was sold to Galaxy Broadcasting, On July 28, 2016. It is now owned by RainbowDash72.
Program Listing (Monday-Friday)
10:00 AM The Price Is Right
11:00 AM The Young and the Restless
12:00 PM CBS 9 News at Noon
12:30 PM The Bold and the Beautiful
2:00 PM Let's Make a Deal
7:30 PM Entertainment Tonight
8:00-11:00 PM CBS Prime-Time
11:00 PM CBS 9 News at 11
4:00 AM CBS 9 Morning News
Gallery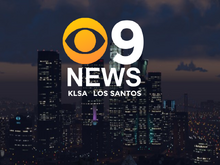 Television stations in Los Santos
KLSQ 2 (XYZ)


KLOS 3 (NBC)
WLSR 4 (RKO)
KWZL-DT 5 (WZL)
KWZL-DT2 5.2 (Sims Broadcasting Network, Blaine County)
KGXQ 6 (CW)
KQXE 7 (ABN)
KLSA 9 (CBS)
KKLS 10 (ABC)
KSIM 11 (Sims Broadcasting Network)
KALS 12 (ABC-TV)
KVDR 13 (ITV)
KIFT 14 (FOX)
KBQZ 16 (WIN)
KKOG 21 (MNTV)
KTOS-DT 23 (Mas Network)
KFTO-TV 24 (IND)
KMYS-TV 29 (MyTV)
KLST 38 (DBC)
KTML 39 (TMD)
KELS 41 (PBS)
KNEN-TV 42 (Freemont)
KRDL 46 (RDN)
KUNO 54 (UNI)
KCCL 60 (CCC)
KLSL 69 (RLT)
[[Template:{{{1}}}|View]] • [[Template_talk:{{{1}}}|Talk]] • [{{fullurl:Template:{{{1}}}|action=edit|edit}} Edit]
CBS affiliates in San Andreas
KSFE 5 San Fierro, SA


KLSA 9 Los Santos, SA
KLVE 35 Las Venturas, SA
[[Template:{{{1}}}|View]] • [[Template_talk:{{{1}}}|Talk]] • [{{fullurl:Template:{{{1}}}|action=edit|edit}} Edit]