KFRA



Location

San Angelo, TX

Branding

Channel 2
Channel 2 Action News

Slogan

San Angelo's 24 Hour News Leader

Channel(s)

Analog: 2
Digtal: 28

subchannel(s)

2.1 ABC
2.2 MeTV
2.3 Ion Television

Affiliation

ABC

First air date

April 19, 1958

Former call letters

none

Former channel number

none

Former Affiliation

none

Owner

Graham Media Group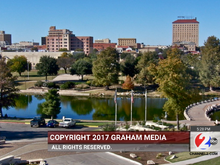 KFRA is the ABC affilate serving the San Angelo, TX area. The station broadcasts on channel 2 and is owned by Graham Media Group. Syndicated programming on KFRA includes: Entertainment Tonight, The Take, Judge Judy, and Hot Bench among others.